First Lobbyist with Down Syndrome Gives Masterclass in Leadership
March 19, 2019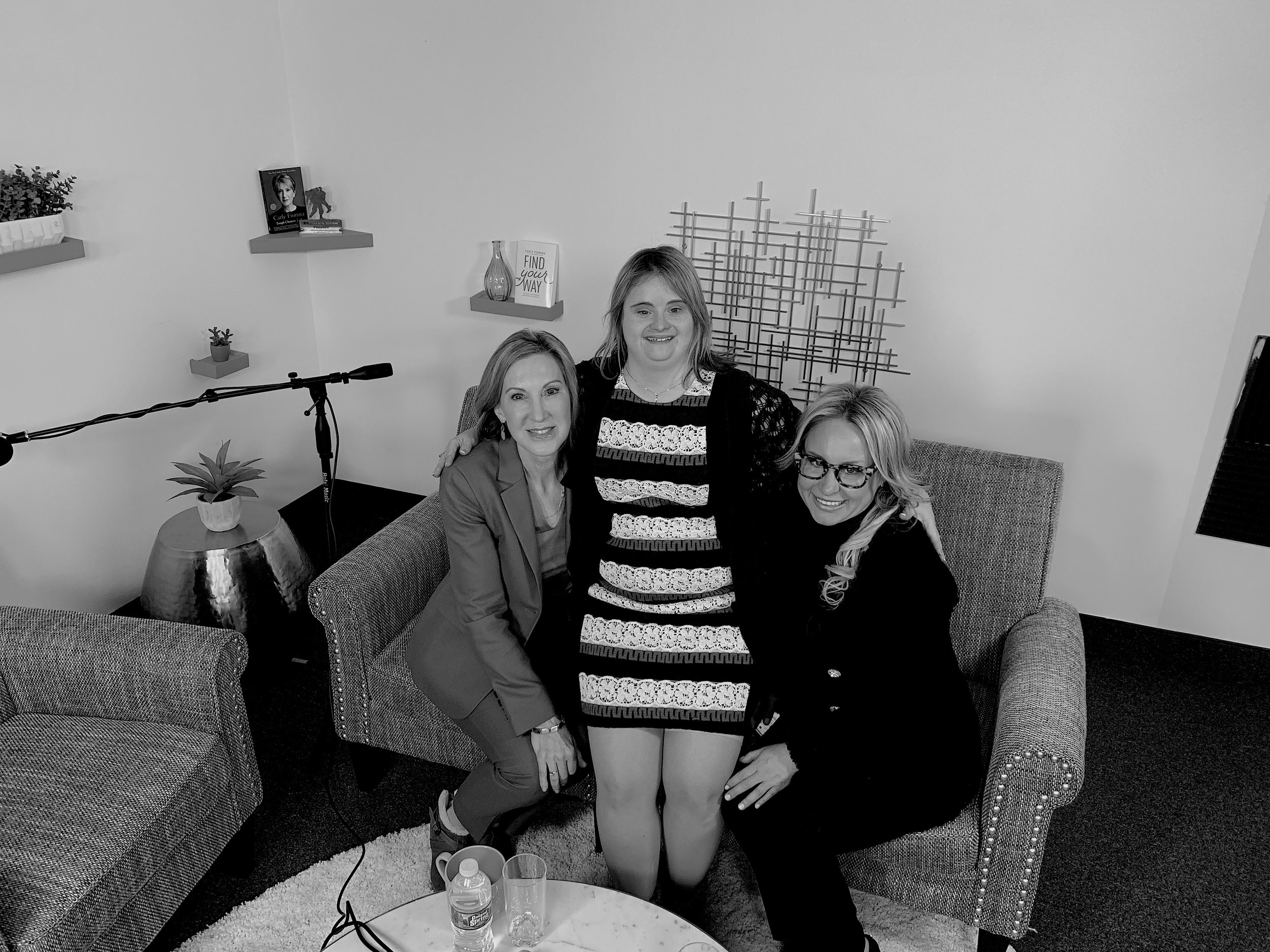 First Lobbyist with Down Syndrome Gives Masterclass in Leadership
March 19, 2019
Kết quả xổ số HaojiangKayla McKeon, America's first registered lobbyist with Down Syndrome, sits down with Carly and National Down Syndrome Society President and CEO Sara Hart Weir. She talks about her upbringing, career and her view of leadership. As Carly says, she's one of the brightest leadership minds you'll ever hear!

Love the episode? Make sure to subscribe, rate, and review the show on iTunes. You can learn more about "By Example" by joining our email list at CarlyFiorina.com/ByExample.
SUBSCRIBE to By Example in your favorite podcast app.

NEW EPISODES are released weekly every Tuesday.
+Transcript
Carly: So welcome, Kayla and Sara, we're so excited to have you here today. Kayla: And we're so excited for us to be here with you. Carly: Well good! And I know that our listeners are going to learn so much from you, you know we do this podcast because we want to redefine the word Leadership for people, people are very confused when they hear to the term Leader, they think, maybe it's somebody with a big title, or a big office, or a lot of fame and leadership isn't actually about any of those things. It's about changing the order of things for the better, making things better. Especially, for other people, and you Kayla have spent your life doing that. Kayla: That's right. Carly: No, you have. Well one of the things that I want to ask you a little bit about yourself before we get your work if that's okay? Kayla: Absolutely Carly. Carly: When I read a little bit about you I think 'wow Kayla has always been an adventurer, a risk taker.' You gave your first inspirational speech at 18, I was ... at 18 I couldn't of ever done that. You ... like to ride on the back of a Harley Davidson motorcycle? Kayla: I do. Carly: You like hot air balloon rides. Kayla: Yes! Carly: You're the first Registered Lobbyist, who also happens to have Down Syndrome. Kayla: Well, I actually did first speech when I was 13 years old, at a Special Olympic event in Syracuse. Carly: Wow! So I want to start by asking you, where did you find your courage? Why are you so brave? Kayla: Because I have many of my colleagues to fall back on and ... with Sarah and Victoria and many of our, many of our colleagues, we help each other out, we are each others stone, so I get my leadership from Sara, who ... is nothing but courage, and she always exhibits that aura about her so she helps me to become a leader and helps me impact the lives of others. Not just with Down Syndrome, most of them are definitely abled. Carly: And, so when you were 13, and you gave that speech at Special Olympics, your mom said that you were never afraid. Is that true? I'm asking these questions about fear because most of us are afraid, of lots of things and ... you've exhibited a lot of courage, and I know our listeners would love to know, are you ever afraid? Have you ever been afraid? Kayla: I've been afraid of somethings, but not speaking, because like you said, we're having a conversation between two people, or three, four, five people in this case, it's just like talking with Congressman or a woman, is just a conversation, we all put our pants on the same way. So, I love talking to people because I am a people person, I am outgoing and this is why my mom said I'm never afraid because it's just another person, no matter how you look at it. Carly: You know Kayla that is so wise, what you just said, seriously. And there are a lot of people in the world who would say 'oh no, I can't talk to a Congresswoman because they're not like me, and they don't put their pants on like me, and they have this big title and this big office and I'm afraid of them, and I'm intimidated by them.' It seems so obvious to you, that we're all just people ... Kayla: We are, yes. Carly: But it's not actually obvious to everybody. Kayla: Not to everybody but that's okay too. We both find our confidence and our courage in other ways and our strength and our senses in different ways. Carly: Yes, we do. Well does riding on the back of a Harley Davidson motorcycle, I must say I've done that, it terrifies me, does that scare you? No, you just have a blast. [crosstalk 00:04:29] Kayla: Nope, because I can fall asleep on the back of a motorcycle. [crosstalk 00:04:33] Carly: Wow! That's impressive, that's really impressive. Kayla: I have a friend ... so I was back at home, which is the [inaudible 00:04:43], a friend of mine was taking me out ... for a couple of years and we would just go, we would go get a bite to eat and then come back, but it would take like 2, 3 hours. Carly: Wow. Kayla: So, that's why I, you know can fall asleep anywhere... [crosstalk 00:05:00] Carly: Yeah, you can fall asleep on the back of a Harley. Kayla: Exactly. [crosstalk 00:05:03] Carly: Pretty impressive, pretty impressive. Kayla: And I know I'm very safe, so I can easily sleep. Carly: So you know, when I asked you about your courage ... a couple minutes ago, you immediately began talking about your colleagues and how Sara and Josh and others on your team lift you up. Kayla: Mm-hmm (affirmative) Carly: And I think that's what leaders do, they lift people up. Kayla: Exactly. Carly: You're a leader, you're a leader. Kayla: In my own way yes. Carly: Well I think in all the ways that matter, you're a leader because you lift a lot of people up. Who lifted you up when you were, before you were a famous Lobbyist, before you were doing all this wonderful work for others, who first saw possibilities in you and lifted you up? Kayla: My parents. Carly: And what did your parents say to you that lifted you up? Kayla: They know I can succeed, and they knew I had many aspirations, and they knew that no matter what that I always try my best, and I strive to do my best to the abilities that I know and not just my parents, but my colleagues, [inaudible 00:06:25] Sara Wheeler, Kelly, and many others on this wonderful, magical National Down Syndrome Society team. They always push, each other to their limits and we break down barriers one at a time. Sara: And I think with Kayla and her role at the National Down Syndrome Society, it's so much more bigger than life with Kayla and not to say to that new mom that may have a baby with Down Syndrome born tomorrow, or next week that every person with Down Syndrome needs to be Kayla or needs to be a registered Lobbyist on Capital Hill. I personally would love that because we would ger so much more work done, but with Kayla and her story and her journey, it's really about showing the world, showing members of Congress, showing that next employer, that next teacher, that next doctor that people with Down Syndrome matter. And their lives matter, and they have value, and they deserve our dignity and our respect and they have passions just like everyone else and I think that's what really makes Kayla so special is she's being a leader and showing all of these other families all across the country what people with Down Syndrome can do, not what they can't do. Carly: Yeah, well you know it's interesting because my mother used to say to me 'what you are is Gods gift to you, what you make of yourself is your gift to God.' And I know that everyone is gifted by God, and so many people ... never fully use or discover their God given gifts, there's so many people who don't achieve all their possibilities and to me you're a leader not just because you spend so much of your time helping other people but because you demonstrate what it is to fulfill your potential. So many people don't, they don't understand what that means. Sara: [inaudible 00:08:28] they do. Carly: You know, if you had to define a leader what would you say Kayla? Kayla: Sara do you want to start? I kind of need a minute please. Sara: Yes, absolutely I think for leadership, for my personal perspective and our professional perspective at NDSS, leadership like you said Carly is all about courage and having the kind of head space to go out and get what you want and really get things done, and for me it's all about leading by example. At NDSS I can't tell the next employer to hire somebody with Down Syndrome if we don't do it ourselves, and so I've been really proud being in the trenches at NDSS the last 7 years, is really walking the walk and talking the talk. We have 25 percent of our staff has Down Syndrome and they're a part of every facet of our entire organization and to me that is truly important. Carly: And they bring real value, and they make a real difference. Sara: Absolutely, and I learn things from Kayla and Charlotte and Adrian and Jamie and Luke and David and everyone on our staff each and every single day they make me better and sometimes, you know I go to them and say 'hey, we have this challenge, or this issue came up, this State Legislation.' Like the State Bills that we're very concerned about that passed in New York State, and Virginia, and now Vermont, around the late term abortion. I want to know what Kayla has to think about that and what she has to say, and that helps us inform how we advocate as an organization. Kayla: And I believe their leader should be advocating for ourselves, that we the commitment, the courage, and the confidence that we wanna show ... I can be a leader, Sara can be a leader, [inaudible 00:10:17] can be a leader in their own way. Carly: I think that, the highest calling of a leader is to unlock potential in others, and what both of you are talking about is not just fulfilling your own potential, which is huge and important, but helping other people fulfill their own potential. That's I think why you are such a powerful leader and role model, for people. Kayla: Thank you very much. I appreciate it. Carly: It's true though, you lift people up. So you talked a little bit about ... some of the work you're doing on the Hill, tell me how you got started in Politics, Kayla, because some people look at politics and go 'whoa, what a horrible place to be', and some people hear the term Lobbyist and think 'no, no, no I don't want to be a Lobbyist." How did you get involved in politics? Kayla: So, in Syracuse I was at a baseball game and the local Congressman, well before he was a Congressman at the time, he was running. We were at a baseball game, and they were throwing out t-shirts and heres me ... I can't catch. Carly: I can't either so it's okay. Kayla: So he came up, and he gave me a shirt, and then we took a picture together, and then the next time I met him it was at a childrens festival. He gave me a business card, so I gave him my business card and then ... we proceeded to the festival but after that I threw a Special Olympics [inaudible 00:11:57] that is when I spoke to him about Special Olympics and why [inaudible 00:12:06] made Special Olympics happen. It was through that, that ... it's been an interest for him in his Syracuse office. It took at lot for me to answer and mom went to yell on my behalf, and like 'oh sorry, yes.' So I ended up working for him for two years in the Syracuse office, where I represented him at different events, like [inaudible 00:12:34] and in various office work. I love that, and even until this day I always say that Congressman John Katko got me my, helped me get my position with the National Down Syndrome Society, because we went to through the cabinet candy jar, which is one of our DS works partnerships as well, that a conference about employment in the differently abled, more specifically towards Down Syndrome. Kayla: And we were going, apparently he had to go to a vote, but it was there where Sara asked my mom 'would Kayla like a job?', and my mom said 'don't talk to me, talk to her.' So when I came over Sara asked me to work for the National Down Syndrome Society, and I accepted and this was in I believe, the longest recruitment ever. Sara: It took several months for her to sign on the dotted line. Carly: Well she needed to be choosy. Sara: Yes. Carly: Had to make sure. Kayla: Exactly, I signed and started in October of 2017, but before then I was a volunteer with NDSS. I was the youngest Self Advocate of The Year in 2016, I am a Down Syndrome Ambassador for them as well and I just love working with NDSS, being able to ... be the first Registered Lobbyist with Down Syndrome, making a difference, and making history, there's not many people that can say that. Carly: Yes.[crosstalk 00:14:17] Kayla: And I am proud to say that I am one of them. Carly: Yes, you are. Well ... when you became a Registered Lobbyist, and I'm asking this question because that term is so loaded, these days, people think they know what it means and sometimes they don't think it means something very nice, right? So when you became a Registered Lobbyist how did you explain that to your friends or your family or people who weren't familiar with this work? Kayla: This is what I like to say to my friends, if they don't know what that means, I'm like 'yeah, I talk to Congressmen and women, I talk to Senators who help pass and enact the laws for those people with Down Syndrome and the differently abled.' Just talking to my Congressman or my Congresswoman and I just feel incredible knowing I'm walking the same steps as ... Congressman Katko, Congresswoman Cathy McmMorris Rodgers, Congressman Tonko, and that's just to name a few, but I feel powerful in knowing that I'm walking the same steps as they do, because I know that what I'm doing makes a world of a difference, not just for one person but for all of us. Carly: Exactly and that is why you are a leader, because you are making a world of a difference for a lot of people. What's the most important work that you're doing right now? Are there particular laws that matter greatly that you're working on right now? Or policies? Kayla: Yes, right now our biggest policy is increasing minimum wage, and this phases out sections for TNC in the next six years and this is within the 93rd Fair Labor and Standards Act where people like me, yes people like me are sick of getting paid pennies per hour and it's not fair to those of us with Down Syndrome, we want to get paid fairly. And mostly an end to minimum wage, we want to end Law Syndrome, because Down Syndrome does not, hold me back or my friends back. Carly: Clearly! Clearly. Sara: For people with disabilities, people with Down Syndrome we still have a system that is very archaic, very outdated and Kayla referenced quite beautifully a 1938 Provision, that was created in a time in the Fair Labor Standard Act, where people with Down Syndrome weren't living past you know five, six, seven years old. And we have laws dating back to the 1960s that were put in place to support people like Kayla, when people with disposability were being institutionalized. And so a lot of our focus at the National Down Syndrome Society has been to modernize public policy and do it in a way that offers more private sector solutions to public sector problems. There's not enough resources and programs like Medicaid and Social Security, and if so Kayla wants to work, and wants to contribute to society and pay taxes she should be able to do that without putting benefits like Medicaid or Healthcare in jeopardy and that's really what we want. If you talk to people with Down Syndrome, just like Kayla, they want to work [crosstalk 00:17:47] Carly: Of course. Sara: They want to be productive members of society, they don't want to be looked at like this is a charity or this is just a nice thing to do, they want to be treated like real people. Carly: Because they are real people. [crosstalk 00:17:59] Kayla: We are not Pinocchio's. Carly: Yes, so Kayla I want to ask, you use a phrase that I think is really important and I want to ask you to explain it a little bit [crosstalk 00:18:11] Kayla: Sure. Carly: And tell me why you think the phrase is so important. You have described yourself and others that you work on behalf of, others that you advocate for as differently abled ... Kayla: Yes. Carly: And I think that's such an important phrase, talk to me a little about differently abled and what that means to you. Kayla: Sure, people use the word 'disability' and I'm not saying anything bad about it, but you also here that 'dis' that's right in front of that word, and yes we all have abilities but we are different in our own right, people have Down Syndrome, people have Autism, people have Asperger's, they're all different abilities and we want to show that we have abilities and those people that do want to celebrate that. And this is why on March 21st, we have World Down Syndrome Day, where we go out to celebrate and promote awareness for all individuals with Down Syndrome, on 3/21 and that's to celebrate Down Syndrome, but with Autism and ... Asperger's and many other abilities out there, we are a person first and foremost and we want to showcase our abilities and this is why we have C21, where it showcases our abilities to the max, where we can bartend, we can serve, we can do anything that we set our minds too. [crosstalk 00:19:44] Carly: You can Lobby! You can advocate! Kayla: Exactly, we can be like you Carly! Sara: You can do everything! Carly: Absolutely, you can lead! You can lead, you are leading! When you were growing up, you were obviously engaged in a lot of activities. Kayla: Pretty much so. Carly: From a policy point of view I know one of the things that people talk about is, immigration of people with different abilities in classrooms, is that something you have a strong point of view about, given your own experience? Kayla: When I was young I was in a basement, I was in a class that was self contained ... and there was later when I got mainstreamed into a bigger class, with fellow peers and now I am taking college classes. In the beginning of taking college classes, I was just taking these classes for fun right, and not for credit. But I wanted to get my Associates Degree in General Studies so I started looking at the class's curriculum and figured out classes I needed, now I'm 37 credits towards my degree ... [crosstalk 00:21:02] Carly: Wow! Kayla: Well I figured that's with this class, I'm not positive on the numbers or stats anymore, but I'm getting closer, but [inaudible 00:21:13] study where not just one person with Down Syndrome is included but all people are included. Because I remember being isolated in the cafeteria once and then I ran into a friend who told my mom ... at an ice cream stand 'oh do you remember me?' An entire football team at lunch and right there I felt more included than ever. Carly: Oh, that's such a great story. Kayla: And my mom was surprised, like why did you sit with the football team? Carly: What's the most interesting class you're taking right now, or that you've taken as you works towards your Associate degree? Kayla: I've taken a couple of sign language classes, and no I am very affluent at all but I can sign, I can serve those individuals that need those kind of, what is the word that I'm trying to look for? Extra assistance if needed. I've taken Psychology classes, I've taken a Sociology class, a writing class, I'm not taking an English class right now. I need another English, I need a Science for the lab, I need History, I still have a little bit to go. Carly: Well and do you have a favorite of all those subjects? Kayla: I love English because I love to write and I have a notebooks full of writing. Carly: Wow. Well you know I would say too few young people know how to write anymore so that's a really important ... [crosstalk 00:22:52] Sara: As an employer. Carly: Yes as an employer I can say that, that's a really important, it's good you love English. Kayla: I do. Carly: I was a History in Philosophy major, so you, you know, your right up my alley. If you were talking to a mom or a dad who knew that they were going to have a Down Syndrome child, what would you tell them? Kayla: Funny because I am a very much of an avid public speaker, that I speak to schools. Elementary schools, Middle schools, Colleges and the schools [inaudible 00:23:30]. And that's my favorite part of talking to the school [inaudible 00:23:34] because when they welcome a baby with Down Syndrome they say congratulations, you have a baby with Down Syndrome, that [inaudible 00:23:45] and baby we are living proof of that, and we want to show what we have and not what we don't. Sara: You know our folks, and Kayla's absolutely right, parent's contact us all the time to get information about Down Syndrome and we provide them with 2019 information on Down Syndrome and that message needs to be congratulations, you're going to have a beautiful, healthy child and you know in 1982 the life expectancy of someone with Down Syndrome was 25 and today it's 60s and 70s, and Kayla how old are you? Kayla: Thirty-one, I'm old. [crosstalk 00:24:23] Sara: You're not old. [crosstalk 00:24:25] Carly: No, believe me you're not old. Everything's relative. Sara: Exactly, and that, I think that's so important and as our folks are growing older it presents new opportunities for us to tackle some policy solutions around caregiving, you know we have a lot of parents that are aging, and our folks with Down Syndrome are out living their parents, present a new challenge to solve that predicament to make sure that our folks are financially sound, it's one of the reasons our organization five years ago led the effort to pass the Able Act, which created tax free savings accounts for people with disabilities, 5-29As and through these savings accounts, Kayla has one actually, and her parents contribute and you contribute your own paycheck. Will be financially sustainable for the long term and that's truly important for our folks to know, you know what that future looks like because a lot of times you'll have a brother or sister that steps into that caregiving role. You know Kayla's an only child, so of course her mom and dad who are absolutely amazing [crosstalk 00:25:36] Kayla: They really are. Sara: They really are, they're two of my heroes too. Those are questions that families need to have those realistic discussions and have a plan which will help make sure that, that person is taken care of. Carly: What's the best part of your work? What's the part of your work that really gets you going? I'm going to ask you what the worst part is in a minute too so you can think about that, but what's the best part of your day and your work? The part that really gives you joy. Kayla: Being on Capital Hill and passing and enacting laws. To make a difference for not just me but everybody. Carly: And what's the worst part of your job? We all have bad parts of our job, what's the worst part? [crosstalk 00:26:20] Kayla: Trying to get out on their calendars, they're always busy. Carly: Oh, trying to get on their calendars? Yes, well. Okay. Kayla: Yes. Carly: Okay, there yeah go, that's realistic. Kayla: Yeah it is, can't get anymore real than that. Carly: And when you, and your fellow teammates who also have Down Syndrome [crosstalk 00:26:36] Kayla: Mm-hmm (affirmative) Carly: When you get together and chat about the day, or chat about your challenges, what is the things that come up most often? Kayla: Hmm I'm not really sure. Sara: With Charlotte and Adrian, what do y'all talk about in the office, in the office and outside the office. Carly: Maybe talk about Sara and Josh, I don't know, but you don't have to say that [crosstalk 00:27:01] Sara: She probably does! [crosstalk 00:27:03] Kayla: No we don't, we just talk in general about ... yes I can drive, sometimes, people don't know how to drive. Carly: Yeah. Kayla: That's okay too, we just talk about normal life goals that we have, that we can go to college, that we can drive a car. Sara: Get married. Kayla: Get married! And maybe other dreams and aspirations that we have when we're together. Carly: In other words, you talk about the same things that everybody talks about when they get together, right? I mean that's what I hear in that answer, and that's why I asked the question. [crosstalk 00:27:39] Kayla: Basically just shoot the breeze. Carly: Yeah, you shoot the breeze, you talk about things that we all talk about, you know. Kayla: Exactly. The News. Carly: Yeah, the News, or maybe not. What your dreams are, what your frustrations are. Kayla: Pretty much. Sara: And I think the best part about working at NDSS is working with Kayla, and Charlotte and Adrian because they teach us, you know everything we have to learn in order to be successful as an organization. Kayla: We teach and you teach us. So we can better ourselves too. Carly: So, give me an example of something ... unexpected, Sara, that you learned from Kayla that you weren't expecting to learn. Sara: Unexpected from Kayla. Kayla and I do a lot of speeches and a lot of presentations together and my mist favorite question that anybody has ever asked me is, would you have hired Kayla if she didn't have Down Syndrome? And that question is absolutely, I mean you see her sitting here, I've been able to see the fortune of seeing her in action, you know we were just with Congresswoman Cathy McMorris Rodgers and Leader McCarthy and ... advocating for our issues and Kayla's drive, her energy, her enthusiasm and her passion all just part of her DNA. [crosstalk 00:29:02] Carly: Her leadership. Sara: Her leadership, she was born a leader. Carly: Well, so it's interesting that you say that, so I believe that leaders are made, not born, I believe that anyone can lead but a lot of people choose not to lead. You are a leader ... and maybe you were born a leader but most people have a series of things happen to them that cause them to realize 'oh my gosh, I actually can make a difference, I actually can lead, I actually can lift other people up, I actually have gifts that I can use here.' Do you remember a time or a moment when you realized that you could do so much more than some people expected of you? Kayla: I never thought that this would happen. Honestly, I never thought this would happen and then I recite to my local Senator at an event back in Syracuse, he said 'you're robbing me.' And I was. Carly: Well that's interesting, so he, you know when I was a young woman and thought that I would never find my own way, I was a Secretary, I had just dropped out of Law School. I remember I worked at a little tiny firm, nine people, and I answered the phones, that was my job ... I didn't have a plan, I was just trying to pay the rent, honestly. But at some point, two people who worked in that office said to me, you could do more, you could do more, and that sort of unlocked me. It caused me to see myself differently, was the Congressman in Syracuse that person for you? I mean I know your mother and dad were always that way for you but were there people who suddenly ... saw you in a way that you saw yourself differentlythann you might have expected? Kayla: You know my parents as one, I know that Sara and Josh as another, from a work stand point, I know that all my friends in Syracuse, I have mentors that help me with sector laws that they always knew I could strive for my best, they knew who I was and what I had to accomplish, and they lifted me up, they knew that I have potential ...[crosstalk 00:31:42] Carly: Potential. Potential, exactly. Kayla: That I didn't know I had until somebody said something to me. Carly: Well you must, I know you are such a powerful example. Kayla: Thank you. Carly: And one of the things that I want to say to you Kayla, most sincerely, is you're a powerful example to all kinds of people, not just people with different abilities, not just people with Down Syndrome, the way you talk about leadership ... is an example to all kinds of people, the way you talk about finding courage is an example to all kinds of people, the way you talk about lifting other people up, the way you live your life, is an example to all kinds of people. The reason I wanted you to come here and talk on this podcast, our podcast is called By Example, and we try and highlight people who are examples of real leadership. I wanted you to come her and talk, not because you have Down Syndrome, I wanted you to come here, I wanted to have a conversation with you because I think you are an example of leadership to anybody and to everybody. Kayla: Well thank you for lifting me up Carly. Carly: Well thank you for lifting so many of our listeners up. I am certain that they are lifted up by this conversation, as am I, you're a wonderful example. Kayla: Thank you very much, I really appreciate it. Carly: It's true! So ... anything else you want to talk about? Anything else you want to tell me? Anything you think we should, I should ask? Sara: Do you want to talk, Kayla, about the Marriage Bill? I mean that's new we just, because of you, because of your relationship and your leadership with Congressman Katko, we introduced a new piece of Legislation this week. Kayla: We have this Bill called The Marriage and Equality Act, when two people with Down Syndrome want to get married but unfortunately we can't because of benefits dropping away and our incomes were actually come together. So let's say me and my friend Johnny want to get married, we can't because of those benefits. But I got on the phone with my local Congressman, and his reaction was priceless, because we had already established a relationship, me and my Congressman Katko of the 24th District, that I call them with my boss as [inaudible 00:34:50] who is Director of Governmental Affairs, and I mentioned this Bill to him, he's like 'What?! Kayla you're getting married?' Carly: Are you getting married? Do we have an announcement here? [crosstalk 00:35:02] Kayla: No, not relationship, no boyfriends. [crosstalk 00:35:06] Sara: You told me you're really focused on being a career driven woman, right? Kayla: No boyfriends. [crosstalk 00:35:10] Sara: Okay, well there yeah go. [crosstalk 00:35:12] Carly: No time! You're Lobbying, come one. Kayla: So my Congressman goes 'Woo Kayla you scared me.' And yeah, it's scary but this is going on Congressman, and I laid out the Bill, and I asked him well you can either be the leading Republican on this or are you going to introduce this? So he just introduced it yesterday. Carly: Wow, that's amazing! And I bet so many people don't even know that this is a problem. Kayla: Exactly. Sara: It goes back to my earlier point, just about a system that hasn't kept up with Kayla, and her peers with Down Syndrome. It's about letting people with Down Syndrome live the American Dream, whether it's, like your point earlier about school, you know at five years old we're forcing students with Down Syndrome to pick their diploma path, that's not right, nobody knew what they were going to do at five years old. I know I didn't. You know the chance to go to college, and not just go to a great program but actually up-tain a degree, an Associates Degree, a Bachelors Degree, getting a competitive job, you know work alongside folks that are passionate about the same things you are and the opportunity to get married. Who knew that in 2019 you'd be penalized for losing your benefits if you wanted to love the person you want to love and I'm proud of Kayla because she's really driven this issue on Capitol Hill for our Organization and I think we're going to pass it this year. Kayla: Good let's do it. Sara: That's your job. Kayla: Were working on both sides of that to address this issue. Carly: That's fantastic! And honestly I was unaware of that, shame on me I didn't know that this was an issue, and my guess is perhaps the Congressman, after he got over the shock of whether or not you were getting married, he didn't know it was an issue.[crosstalk 00:37:06] Kayla: Yeah, it's not marraige mission, I'm not getting married. No marriage. Sara: Maybe someday? Kayla: No boyfriends. Sara: Maybe Carly and I will be invited to the wedding? Kayla: Well let's get a boyfriend first. [crosstalk 00:37:15] Carly: Well you know a lot of people who do want to get married ... [crosstalk 00:37:19] Kayla: Yes.[crosstalk 00:37:20] Sara: Yeah. Carly: That's why you're advocating for it. Not for yourself but for others that you want to represent and want to lift up. [crosstalk 00:37:27] Kayla: Exactly, exactly. Carly: Well that's, that'll be fantastic news if that passes. Sara: We're very excited. Carly: And I know if it, if he ... the Congressman ... drags his feet in anyway then you'll be back in his office. Because that's your job. Kayla: For sure I will be. Trust me. Carly: If you're a Registered Lobbyist do you have to carry a special ID or something, do you have a special little card? Sara: Maybe we should have to do that. Kayla: What a good idea. Carly: I mean, sure you can kind of flash the card at the guards you know and maybe get ... [crosstalk 00:38:01] Kayla: Past security. Carly: Yeah, although my guess is you don't have any trouble getting access to these Congressmen's office, just on their calendar maybe, but we all have that problem. Kayla: Exactly. Carly: We all have that problem. Anything else we should talk about? Other work that you're passionate about or? Kayla: I want to say my heroes are the self advocates that I work with, and because they are amazing because when we go we tell our personal story and that's what really drives it home and they can remember us when the Bill comes up or they can put a name to our face, so my heroes are my fellow self advocates, my role models, not just Sara and Josh they are wonderful role models, thank you, but my parents are my role models as well. Carly: And when you tell your personal story to members of Congress who may not understand the issues that you advocate for, what do you tell them? Kayla: I tell them that my name is Kayla Mcquin, I am the first Registered Lobbyist with Down Syndrome. This is what's up. Carly: That's awesome! You probably scare them to death, actually. Because they [crosstalk 00:39:17] Kayla: They can be scared of me all they want, I'm just trying to get my work done. Carly: That's right. Sara: And that's why I hired her. Carly: That's why you do, right? Kayla: Exactly. Carly: Courage, courage, courage. Is there another personal story of one of your colleagues that you'd like us to know about? Kayla: Can you help me explain Charlotte? Sara: Sure! So Charlotte actually lives in Virginia, Charlotte works with us part-time, and what Charlotte does is she focuses on a lot of our communications, she's an excellent writer, as well and she's just another one of our firecrackers on staff, she's very passionate about all different types of issues, I've heard her talk about employment to how her life matters but what makes Charlotte unique is she's actually a Heart Transplant Survivor, she had a heart transplant a couple years ago. Kayla: Is it six? Sara: Six years ago, she just celebrated her heart anniversary, her heartaversary. And Charlotte is helping us actually advocate for Legislation State by State to prohibit discrimination for people with intellectual disabilities from organ transplants and organ transplant lists, we've passed this Legislation in about seven or eight states, and that Charlottes another great, you know example of a leader, who's leading by example and has the courage to tell her own story about what happened to her and how her life matters. Kayla: And [inaudible 00:40:43] he is ... he is also a self advocate and he is part of our Self Advocate Advisory Board, we both been on for numerous years but we advocate strongly on behalf of each other, behalf of our individuals, Reagan [inaudible 00:41:09]. Have you ever heard of [inaudible 00:41:12]? Carly: I have not. Kayla: He starred in that movie as produce, like how he had to face discrimination, and gets people with Down Syndrome, he's new to our staff and we just love ... it's just like Sara said, David is a fire cracker himself, he knows what's going on and everybody just has a whole new perspective to everything of NDSS. Carly: And you know I'm learning so much sitting here listening to you all. For example, I was not aware that there were ... restrictions or prohibitions against people with intellectual challenges receiving organ transplants. That's amazing, that's terrible. Sara: It's awful, we actually have a family from San Diego, James was 26 at the time his parent's, his kidney function, he kept losing kidney function over many, many months. His parents were active in trying to find him a surgeon that would do alive kidney donation, they called me in tears one night, I'll never forget it, it was in November 2017 evening and mom, both attorneys, both very passionate advocate in themselves said that this UCLA surgeon took one look at James looked back at his mom and said 'I'm not operating on your son. His IQ is not high enough.' Carly: Oh, my. Sara: And after, awful, awful, it's not his place to say that James' life didn't matter, and after many, many months and we thought JR his brother was going to be actually the live kidney donor he wasn't able to donate his kidney because of his own health conditions, we actually took the story to the media and had the family interviewed on their local news station, in San Diego. We actually pulled them out of a Padres game, I think it was opening day and the next morning after the piece had aired ... five calls to the Kidney Advocate for James at the Children's Hospital in San Diego, the first call, from a complete stranger, Paul, Paul Williams, that complete stranger ended up being a perfect match for James [crosstalk 00:43:28] Carly: Oh, my. Sara: And James just celebrated, his first year of his kidney donation back in January and the family couldn't be happier and of course James' health couldn't be better. And that's what it's all about, and it's really not Kayla's limitations, it's everyone else's. Carly: Yes, yes, exactly. Do you think, let me ask you a ... different question. Do you think that there would be less support for late term abortion if people were not so afraid of Down Syndrome? Sara: I think there is a lot of ignorance. Carly: Yes, that's what I mean. [crosstalk 00:44:09] Sara: That's still ... [crosstalk 00:44:10] Carly: Fear is based in ignorance. Sara: It's still out there, when you've met one person with Down Syndrome you've met one person with Down Syndrome. And Kayla's different than Adrian, or Charlotte or anyone ... [crosstalk 00:44:23] Carly: Just like you and I are different. Sara: Absolutely, absolutely. And we should embrace that and society should embrace that, we at NDSS feel again, we're a Human Rights Organization for all individuals with Down Syndrome. There lives matter, they deserve a fair shot at the American Dream and that's what we do each and every day at NDSS. I think there's a lot of ignorance still out there and it's our job as an organization and it our job as advocates and activists to change that ignorance. Carly: Kayla when you go onto the Hill and my guess is that people know you're coming and many of them know you very well because you're such a ... effective and passionate advocate, do you ... tell me a story of someone you ran into who was really ignorant that you needed to educate. I mean I think so many of us are ignorant about all of the issues, but ... can you recall a situation where you were meeting with people who really were ignorant and you had to educate them by your example but also by your ... analysis, why a law was necessary? Kayla: The 'R' word is offensive to not just me but all my friends, I'm not going to say the word trust me, I don't need a bleeper here, so we're trying to end the 'R' word, and actually today is Stop The Word To End The Word, which is actually March 4th, I believe or March 6th I can never remember what the date is, so please don't quote me, but that word is not just offensive to me but it's also offensive to every body. So when I hear somebody say it like wait what did you just say? Are you kidding me right now? That word should not be in your vocabulary, because they may say it about their phones, they might say it about whatever but I do not want to hear that word, it's very offensive to me. Carly: As it should be, to all of us. When you get into a situation like that, or someone has, is ignorant or they're insensitive ... and they say that word or they say something else, how do you handle that? And the reason I'm asking is because all of us run into those situations, were we're faced with someone who is ignorant or offensive and we have a choice, we can either ...[crosstalk 00:47:06] Kayla: Take the high road. [crosstalk 00:47:07] Carly: Walk away from that conversation because we're offended or we can engage in that conversation. So teach our listeners a little bit about how you engage in a conversation when someone has just offended you with their ignorance and their insensitivity. Kayla: I would, personally engage myself because I'm not just standing up for myself, I'm standing up all of those advocates that are out there that are saying A. This word is offensive, B. Are you kidding me right now. Like you are literally say this word in front of me and expect to get away with it, not going to happen, and if anybodies going to use that word it should be out of the dictionary to begin with, because I heard it said but I'm not going to let that stop me from not speaking up. Carly: And you know so it's such an important lesson because so many people when they ... hear someone use an offensive term, they don't say anything, they just sort of retreat and the fact that you will say something ... [crosstalk 00:48:23] Kayla: Always. Carly: It's hard perhaps sometimes, maybe it's even scary sometimes but it has a huge impact on that person. What do people say when you do that to them? When you said don't, are you kidding me, you can't use that word, what's the reaction you get? Kayla: Dude step back. Carly: And do they say, do they ever say thank you for educating me, or are they just embarrassed? Kayla: Embarrassed. So instead of thank you or something, they just walk away from me, and by all means if you're going to walk, take the high road, do not give me any further, because I'm not going to say something that I'm going to regret. Carly: Where did you learn this ... [crosstalk 00:49:06] Kayla: I don't, I just know. [crosstalk 00:49:07] Carly: This poise, this confidence, this courage? Honestly, I will repeat what I said a while ago, you are giving lessons in leadership for everyone, how did you learn that? Kayla: I don't, it just comes naturally. Carly: Mm-hmm (affirmative) Kayla: I just speak from my heart and knowing that ... I'm just doing what I think is right. Carly: Have you ever been afraid of anything? I mean, do you, I've been afraid of loads of things, that's why I ask, I mean ... [crosstalk 00:49:39] Kayla: Yes, I'm severely afraid of the dark, but that was when I was a kid. Yes, I used to be afraid of heights, but not anymore. So I'm overcoming my challenges and I'm not afraid. Carly: I ask this, I keep asking this question because one of the things when we teach leadership to people in companies or in organizations, the first thing we talk to them about is courage, because people get afraid of really silly things that hold them back, for example ... [crosstalk 00:50:14] Kayla: Public speaking. Carly: Yeah, public speaking, people are afraid to make a mistake. They're afraid of looking foolish, they're afraid of being pitied, they're all, you know a lot of Veterans come back wounded and they're afraid of being pitied ... so when you say you're not afraid of any of those things it seems so obvious to you but it's not obvious to so many people how important that is. Kayla: And if you make a mistake you just learn from it. Carly: Uh huh. Kayla: I had a colleague who ... [crosstalk 00:50:45] Carly: She's giving a Master Class in Leadership here, you just learned from it! Sara: Don't steal her away! Carly: Exactly! Kayla: If a man makes a mistake, go talk to your boss, you talk to your supervisor, you two have a conversation, figure it out. Carly: So you're honest about your mistake, and then you figure out how to make it right and you figure out how not to make that mistake again. Kayla: Exactly. You learn from your mistakes, you don't want to sit there and ponder, you take action. Carly: Yes, exactly. Master Class here folk in Leadership. So let me ask you about another thing that comes very hard for some people. Courage comes hard for some people. Obviously you've learned how to be courageous over and over again ... integrity, character, being honest about a mistake, comes hard for some people. It doesn't come hard for you. Kayla: I feel like when it does I had to talk to my boss about ... a mistake that I made then, but it was hard for me to be so over direct with to my boss but I actually turned it into easy because I was talking with a mentor who was through the National Down Syndrome Society, and then it became quite easy and then I talked to my boss about it, it came easier after that. Carly: Telling the truth usually turns out to be easier actually. Kayla: It does, I'm gonna re-open the discussion. [crosstalk 00:52:05] Carly: No you don't need to. Kayla: Because it's already been discussed and taken care of Sara: Off the record, right? Carly: Yeah, and we don't need to know the specifics but the fact that, the fact of having an honest conversation about something that perhaps didn't go well, is usually such a much better course then trying to pretend something happen that didn't actually happen. Kayla: Exactly. Sara: At NDSS we, at the end of the day we're your employer and we employ 25 percent of our staff that has Down Syndrome but ... as a Human Rights Organization, our people are our programs, at NDSS, so we spend a lot of time working across our staff and across our stripes at the organization, to provide mentoring, Our folks are always on the road, not just me, I travel a lot ...[crosstalk 00:52:54] Kayla: Me too. Sara: But Kayla's on the road, she has support 100 percent of the time when she's on the road, we bring in outside speakers to educate and mentor our staff, and at the end of the day our philosophy is you're going to fail you just need to fail forward. Carly: We all do it, we all make mistakes. We all fail, but honestly the character to tell the truth even though its hard ... that's a lesson any staff member [crosstalk 00:53:24] Sara: Absolutely. Carly: could learn. Well one more, before I let you go because you're giving our listeners a Master Class here in Leadership. One of the things that you obviously do very well, that's very difficult for some people is you collaborate with other people, obviously collaborate naturally, with all kinds of people ... [crosstalk 00:53:45] Kayla: Exactly. Carly: Talk a little bit about that, how did you come to be a good team player, such a great collaborator? Kayla: Because I learned from the right person, meaning my dad, that [inaudible 00:54:00] and when you can't, don't. And I learned to just go with the flow, if something doesn't go your way, let it go and move on. If something doesn't work well in a speech and you mess up, so what, the show isn't going to matter what, just move it over and keep talking. If I mess up on a conversation with Sara and Josh, it is always those responses that smooths things over, so don't let something get in your way when you know there is a light at the end of the tunnel, there's that finishing, that finishing line, there's always a friend, like Sara's a friend of mine, josh will always be a friend of mine, my boss Ashley is always a friend of mine, my parents are a friend of mine, and no matter what be, do it together. Carly: Well I hope you know Kayla that I've become a friend of yours too. Kayla: And we do it too, a lot. Carly: Because ... I mean this so sincerely I have tremendous admiration for you as a leader. Kayla: Please don't make me cry. Carly: It's true, it's true and our listeners I assure you have learned a lot, they've learned a lot about Down Syndrome but mostly they've learned a lot about leadership, and that's why I'm so happy you accepted our invitation to come and so glad I had a chance to talk with you. Kayla: Definitely. Carly: And ... when my new book Find Your Way comes out I'm going to send you a copy and I think you're going to see 'oh I know this already, I don't have to read this book, I know all this stuff,' because you do. [crosstalk 00:55:50] Kayla: I love reading, so I'm looking forward to reading. Carly: You have found your way in life and you're helping a lot of other people find their way. Thank you so much for coming. Kayla: Thank you for having the both of us, the three of us! Carly: And thank you Sara as well and Josh thanks to all of you for being here and thank you for the tremendous work that you do on behalf of so many that lifts not just them up but all of us up. Thank you. Sara: Thank you. Kayla: Thank you.